SprayBug
The SprayBug is a simple, rugged, and cost-effective way of traversing a thermal spray torch.
It is very important to control the gun with consistent and reproducible motion. This gun traverse speed control is important to control the coating thickness and the quality.  It is a safer way to spray parts.  The operator can stand back away from the heat, smoke, and physical motion of this equipment. This traverser is especially good for shafts that are spinning in a lathe.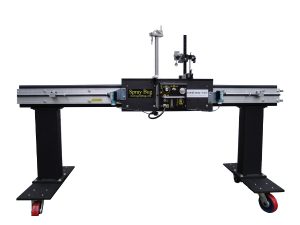 Click on the play button below to see a video demonstration.
Features
Two speed ranges
1.5 to 30 inches per minute
8 to 160 inched per minute
Digital readout for traversing speed
Caster wheels standard
Floor lock standard
5 axis torch holding tool standard
Hose and cable standoff standard
Traversing travel distance is 54 inches
Overall length is 96 inches
96 inch extensions can be bolted on to extend the travel
Automatic cycling option standard
Micro switch technology is used for changing direction
Can be used with combustion wire/ powder, HVOF, plasma, and electric arc
Weight capability is 50 lb in the vertical orientation when used in seed range 1.5 to 3 "/min
The single rail SprayBug can be mounted in the horizontal or vertical orientation
Single Rail SprayBug